Home
Biography
Photos
Jewelry
Music
Perfumes
Gift Shop
Contact
View Cart
A World Christmas - Love Knows No Borders
| | | |
| --- | --- | --- |
| Christmas Wishes | Sleigh Ride | I'll Be Home For Christmas |
| | | |
| --- | --- | --- |
| My Grown Up Christmas List | Winter Wonderland | Have Yourself A Merry Little Christmas |
| | | |
| --- | --- | --- |
| Christmas Song | Merry Christmas Darling | White Christmas |
| | | |
| --- | --- | --- |
| Feliz Navidad | Times Square Video Clip | Christmas Performance Video |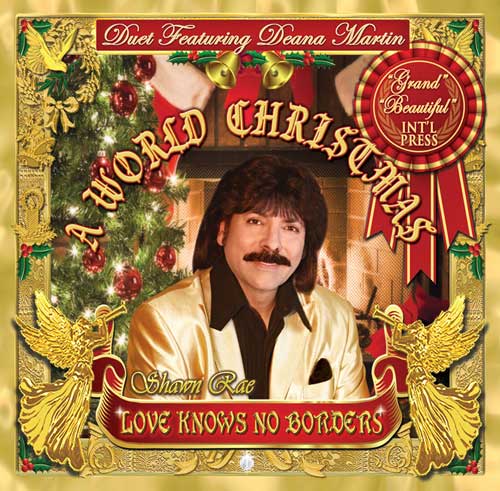 Shawn Rae
A World Christmas
"Love Knows No Borders"
CD Review
By Stephanie Murphy
Hopeful hearts everywhere paused in awe near the winter solstice two years ago when the Pope welcomed the King of Saudi Arabia to the Vatican.
Had two mountains moved, just to show a weary world they could?
The portent of that promising summit spurred Shawn Rae toward a musical gesture of gratitude.
A holiday album from the Muslim world may seem an unlikely overture. Born near the Himalayas, with Jewish, Muslim, Christian, Hindu, Sikh and Chinese forebears, Shawn Rae chose to live in America in the 1970s.
Gathering a cross-cultural team of musicians, writers, technicians, vocalists -- and celebrated music arranger Charles Calello -- Shawn aimed for a musical treasure for listeners of any faith.
His engaging baritone conjures the sunny-snowy-starry moods of Yule settings everywhere: cherished families, lovers and friends, giddy romance, heady dreams, longing, anticipation, joy and hope.
Calello's genius shines in lush strings, whimsical flutes, bold horns, playful bells and tinkling chimes. Swinging ballads and nostalgic rhythms prance their way into the happy mix.
My Grown-Up Christmas List conveys a hopeful ideal dear to Shawn: "No more lives torn apart … wars that never start … right would always win … and love would never end."
He sings light-hearted Feliz Navidad in English and Spanish, as background voices echo the merry message in Hebrew, Arabic, French, Greek, Iraqi, Urdu, Italian, and Chinese.
Listen to A World Christmas (www.ShawnRae.com), and you just might hear yourself.
About the Reviewer:
Stephanie Murphy has over two decades of experience as a columnist, reporter and editor with major newspapers and magazines. She has interviewed numerous entertainers, actors, authors, comedians, business leaders and politicians. Some of her interview subjects include: Sophia Loren, Henry Mancini, Bill Gates, Donna Summer, Jack Nicklaus, Dr. Joyce Brothers, Dr. Benjamin Spock, William F. Buckley Jr., Art Buchwald, F. Lee Bailey, President Gerald Ford, Richard Nixon, Dr. Jean Houston, psychologist, author of "Life-Force: The Psycho-Historical Recovery of Self", Arthur Laffer, the infamous "Laffer Curve" supply-side economist.